September 20th 2013
MICRO BOOK STUDIO 2.084 RELEASED
Micro Book Studio 2.084 was released since September 20th 2013. Micro Book Studio is freeware and since MBS 2.083 version registering is no more necessary to use Micro Book Studio. Software will be functioning and with full access to all its tools without needing any registry password.
WHAT IS MICRO BOOK STUDIO
Our world needs the deep thought and reflection of many wise men which will enable man to embrace higher values that will permit a development which be the transition from less human conditions to those which are more human.

However our civilization organized itself in order that hardly there will be one man that is really free to reflect deeply. We invite everyone to shut off television and stay one hour each day in front of a micro for a long and perseverant effort of search and reflection.
Micro Book Studio is an innovative and developing tool for study in a personal computer. Based on teachers and people devoted to hard study experience, it does not try to transfer reading as is in a conventional book to a computer, but to use programming tools to make study and research in a computer a different and more fruitful experience than in an usual book.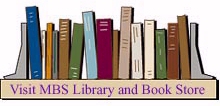 Micro Book Studio may read any book that be available in MBS format in any web site. Micro Book Studio has a direct line that connects it directly to a highly selected and growing own library, and has internal zip tools for almost automatically decompress, install, bookmark and open any new downloaded book. New 2.084 version has, among other innovations, new more powerfull search tools and a Minimum Tutorial to guide beginners to a first use of software. By using Micro Edit Studio, a fellow software for Micro Book Studio, user may also create, edit and distribute his own books in MBS format.
Micro Edit Studio 1.094 and MBS 2.084 are freeware, and do not need any password to register the software. All books and libraries in Libraries and Books Store are also freeware.
AVAILABLE VERSIONS
Today are available English and Portughese MBS 2.084 versions for Micro Book Studio, old MBS 2.03 version for both languages, and English and Portughese MES 1.094 versions for Micro Edit Studio. MBS 2.084, MBS 2.03 and MES 1.094 run perfectly well on Windows XP and Windows 7 or higher, but do not run correctly on Windows Vista.
Micro Edit Studio and Micro Book Studio are immediately fully operative after download. Ald MBS 2.03 version, still available for archive purposes, may be registered by these login, password and register number:
Login: Micro Book Studio
Password: yrcTSaYcwyd
Register Number: 10001
Micro Book Studio 2.084 may refuse to install in some computers. This software uses special DLL files to decompress and install the .zip files which contain MBS libraries. When MBS 2.084 installs, it will automatically register in operational system the DLL files required to their operation. Registering will happen only once, when software is opened after its installation. Eventually the operational system will not accept this automatic register. Windows will display a box showing a "Non Registered Class" message. Running the program will then require a manual DLL files registering.
In order to manually register the files which allow MBS 2.084 operation, follow these steps:
1. Press "Initialize" button of Windows, in the left inferior corner of Windows Desktop.

2. Press "All Programs", "Acessories" and finally "Command Prompt".

3. In a black background and white caracters windows that will be is opened, write, in the end of last displayed line, the following command: regsvr32 abalezip.dll

4. Press "Enter" in the keyboard. Windows will display in a message box that class registering was correctly done.
If file manually registering does not succee, verify if your computer does not require administrator access passwords in order that operational system be able to manually register the files. If this option would not be available, you may run MBS 2.03 version in your operational system. The MBS 2.03 version does not have the Installation Tool Box and dos not require registering .dll files for its correct operation.
Micro Book Studio 2.03 has less tools than Micro Book Studio 2.084 and has not a web connecting it to its own Library and Books Store. However, you may download books for MBS 2.03 by using conventional browser and zip decompression tools at our Library and Books Store.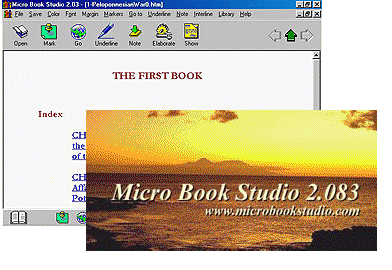 Micro Book Studio may:
Fastly customize colors, fonts and margins in a e-book or e-library by selecting presentation mode for almost three hundreds different items.

Underline a text that is being read. Each underlined text will be a link to next underlined text.

Insert notes in text that is being read; each note will have a link for next inserted note.

Easily navigate among book or library pages, between underlines and inserted notes.

Elaborate special files containing only underlined texts and/or notes that were inserted in texts. Notes and underlines that are showed in special files contain links that go back to book position in which were original notes and underlines.

Elaborate special search files containing all texts from a work or from a whole library where there are selected words or expressions. User may choose size for texts that will contain searched string and each text that is in special file contain a link to work or library position where original string was.
Print or save as text or RTF common files, whole books or special files containing underlines, notes and searches.
History files recover all positions where reader has previously read.
Library files store addresses all books that are present in a personal computer for immediate access.
Micro Book Studio 2.084 contains an Address Bar by which user may, when connected to web, navigate through Micro Book Studio site and download libraries and softwares that are available in it. It has also a MBS Tool Box by which, almost automatically, user may decompress, install, bookmark in MBS Menu Library Files and open any new MBS Library that was recently downloaded.
Micro Book Studio 2.084 has an Import Library Files tool that may import Library Files from other previous MBS installed versions and has also the new MBS Edit, a note editor specially designed to save notes that will not be inserted on Library files, but independently saved on the same folder where being read library is stored.
And finally, better than all, Micro Book Studio comes together with a freeware Micro Edit Studio software, by which user does not need to wait that a work is available in Internet as MBS (Micro Book Studio) Library to use or distribute it in that format.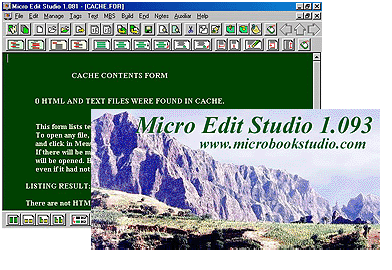 With Micro Edit Studio anyone may prepare his own MBS libraries for personal use or for distribution to others or by Internet. Micro Edit Studio may convert in e-libraries
Any file or group of files as Word, Text os HTML documents.

Any copied from Internet site, whose main content is text and not images.

Several HTML files that are copied from different Internet sites, as a search result from many sites.
Micro Edit Studio is what really makes Micro Book Studio a very powerful tool for serious study activity. After knowing basic MBS tools, we advice those who are devoted to hard study to spend some time to grasp all MES functionalities.

Click here to know more about Micro Book Studio.
Click here to know more about Micro Edit Studio.
Click here to know more about Software Download.
Click here to visit Libraries and Books Store.