To create a search file in Micro Book Studio, click first at Menu File + Search Configuration. A Dialog Box will be opened where user will choose how many times listed quote size will be compared to searched string size. Options vary from 10 to 200 times searched string size.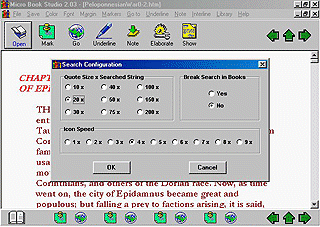 Following, click in Menu File + Search in Work or Menu File + Search in Library. A box will be showed at screen where you may type string to be searched. Micro Book Studio will search string not only in opened file, but also in all Opuscle or Work to which file belongs, if you selected Search in Work, or in all Library to which Work or Opuscle belongs, if you selected Search in Library.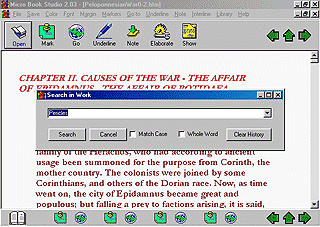 When search is ended, Micro Book Studio informs how many ocurrences were found and opens created file showing search results. Each ocurrence contains a portion of text where string was found and string is showed as underlined text, which is a link to original ocurrence in work.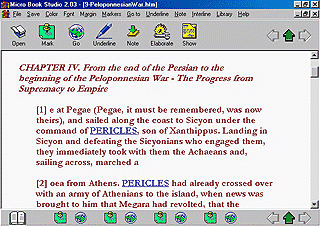 By clicking in Menu File + Show Search File Micro Book Studio will return to last position in Search File from where user had come. Search files may be saved as Text or RTF files allowing to study all texts containing searched string. Since version 2.05 Micro Book Studio may make also boolean searches in all a book and even in all a library.


Click here to know how to underline a text.
Click here to know how to insert a note.
Click here to know how to navigate in a MBS library.
Click here to Download Software.
Click here to visit Libraries and Books Store.