ADDRESS BAR



Micro Book Studio since its 2.06 version, comes with an address bar, found below Icons Bar. When a web connection is active, by clicking in address bar Micro Book Studio searches and starts Internet Explorer displaying main pages from Micro Book Studio Site, like the Libraries and Books Store for immediate downloading of libraries into your computer.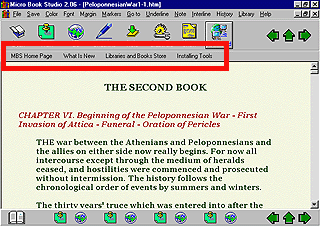 If user wants to use another browser of his preference instead of Internet Explorer, he may click in Menu Help + Select Web Browser and select the address where the executable another browser is stored in personal computer. Netscape Navigator, most common browser after Internet Explorer, may be commonly found in addresses like C:\Program files\Netscape\Communicator\Program\netscape.exe or C:\Program files\Netscape\Netscape6\netscp6.exe.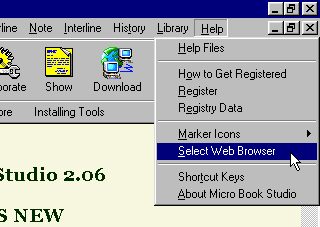 Having chosen your preferred browser or accepted Internet Explorer as the default browser, by clicking at Donwload Icon at Icons Bar, or by clicking at Libraries and Book Store link at Address Bar, Micro Book Studio will open selected browser and you may download libraries you want to read to your computer.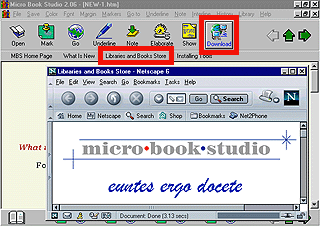 You may open by selected browser any other Web address where there are MBS Libraries available for download by clicking at Menu File + Open Web Address and typing requested address on Dialog Box that is displayed. Pressing on OK button will open browser in typed address. Typed address will be stored on Dialog Box memory for further faster access.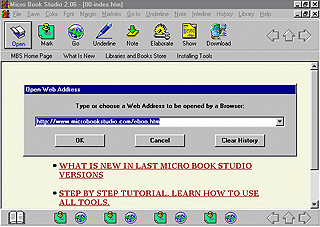 After downloading you do not need to worry about unzipping and installing MBS Libraries in your computer as it was needed in MBS 2.03 version. By pressing on "Installing Tools" button in Address Bar Micro Book Studio will open its MBS Tool Box which, by clicking on "Install MBS Library conained in Zip File" item, will almost automatically decompress any .zip file that contains a downloaded MBS Library, create a new folder to store decompressed file, open Micro Book Studio Menu Library Files and install in it a new link item to new library.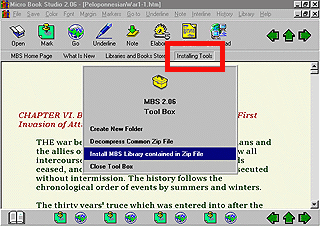 You must only to open Menu Library Files and, by clicking in hiperlink that was installed on "Downloads" folder, to start reading new library.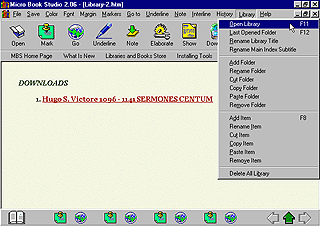 Click here to know how to underline a text.
Click here to know how to elaborate a search file.
Click here to know how to navigate in a MBS library.
Click here to Download Micro Edit Studio.
Clique here to visit Libraries and Books Store.